Roger Asay & Rebecca Davis
The collaborative work we have done since 1983 has attempted to bring viewers into direct, intense contact with the raw materials of nature, so that they can come to see themselves as part of the seamless continuity of the natural world. We work through simplification and minimal arrangement of materials to create a clarity that reduces the distance between the viewer and the object.
---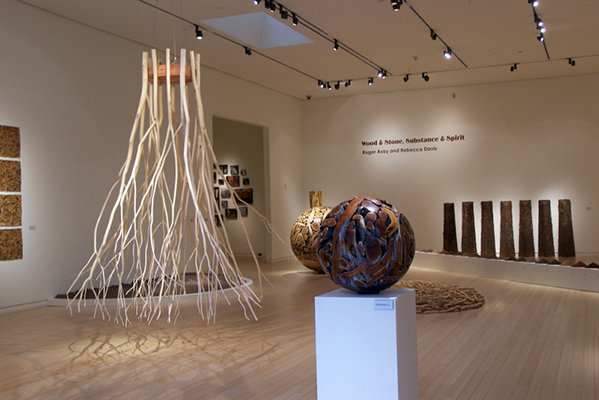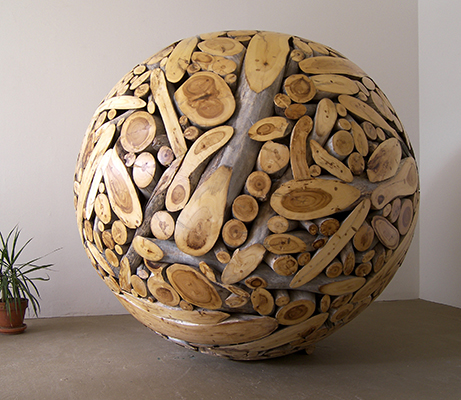 ---
Collaborative Artists since 1983, producing an on-going body of sculptures entitled WOOD & STONE, SUBSTANCE & SPIRIT. This work has been exhibited in museums and art centers and galleries including Coconino Center for the Arts, Tempe Arts Center, Prescott Fine Arts, Phoenix Art Museum, University of Arizona Art Museum, Yavapai College Art Gallery, Sky Harbor International Airport, Tucson Museum of Art, Arizona Museum for Youth, the Scottsdale Center for the Arts, the Roswell Museum and Art Center, Austin Museum of Art, Prescott College Art Gallery, and Mesa Contemporary Arts.
Additional joint exhibitions have occurred at the Colorado Springs Fine Arts Center; Clay and Fiber Gallery in Taos, NM, Sebastian-Moore Gallery, Denver, CO; Boulder Arts Center, Boulder, CO; "Outer World/ Inner Vision," touring exhibition sponsored by the Arizona Commission on the Arts, 1983-85.
Public Art Work includes site specific sculpture at Reid Park, Tucson, AZ; Riverfront Park, Cottonwood, AZ; Lookout Mountain Park, Phoenix, AZ; Mountain Avenue Demonstration Project, Tucson, AZ; Strickland Park, Prescott, AZ; plus numerous private commissions.
Rebecca Davis
1968-71
- Western Washington State College, Bellingham, WA. BA Anthropology, University of New Mexico,
1974. To present
- Continued studies in Botany and Ecology.
- Artist in Residence, Roswell Museum and Arts Center, Roswell, NM, 1976
- Colorado Chautauqua Arts Festival,1979.
Selected Exhibitions
- One Person Exhibitions: Aspen Center for the Visual Arts, 1981
- Fort Lewis College, Durango CO, 1978
- Roswell Museum and Art Center, Roswell NM,1976
- Bob Tomlinson Gallery, Albuquerque NM, 1975
- One Person: Yavapai College Art Gallery, 2006.
Roger Asay
- Earlham College, Richmond, IA, BA, English, 1963
- University of California, Berkeley, MA, Painting, 1967
- Summer art studies at American University, Washington DC, 1962 and the Aspen School of Contemporary Art, Aspen, CO, 1964
- Year in Paris, France, 1963.
Selected Exhibitions
- Hill's Gallery, Santa Fe, NM, 1975 (solo Exhibition)
- Fine Arts Biennial, New Mexico Museum of Fine Art, Santa Fe, 1975
- "Indian Images," Touring show from U. of N. Dakota Art Museum, 1977
- "The Material Dominant," Fine Arts Center, Penn State University, University Park PA, 1977
- "Crafts in the Parks," US Forest Service, 1977
- National Sculpture 1978," six state tour
- "Colorado Crafts, 17 Views," Denver Art Museum, 1978
- "Skin Forms, Innovations in Leather," Johnson Memorial Museum, Cornell University, Ithaca, NY, 1979
- North American Sculpture Show," Foothills Art Center, Golden, CO, 1980.